I love Halloween. I think it may be my favorite holiday. No shopping for presents, no enormous meal to cook, minimal decorations required, candy to eat, invented by the Irish, plus costumes! What's not to like?
So I am going to spend today making ghost luminaries out of old milk jugs, gathering the last ingredients for mom's pot of chili, decorating the yard, cleaning the house...and then I have to GO TO WORK. (graveyard shift?) The library will be quiet as a tomb.
I am working on Halloween. Expect witchiness.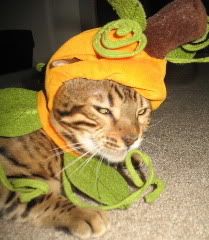 (not my cat)