That, folks, is my naked knee adorned with the most spectacular rainbow-hued bruise. (sadly, the photo does not do justice to the gorgeous damson plum shade of purple it's blossomed into just today) I actually saw stars when it happened. When most people see someone sporting a bruise like this one, they exclaim, "Holy crap! What did you do?"
Let me tell you.
Mike and I have been fighting The Kitten Wars for oh....about 4 months now. We liked to think of ourselves as experienced warriors, wrangling and subduing kittens without even breaking a sweat. "Eh, kittens," we'd say with aplomb. "Some scruffing of their wee necks for some authentic momma cat scolding, a little spray with the squirt bottle when they're bad - no problem."
Until now.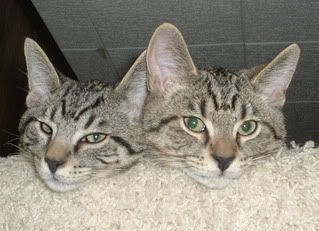 (Ronan & Tighe)


I first met Ronan and Tighe when they were still in their momma's belly. Little more than a kitten herself, she would sprawl, hugely swollen, and lash her tail back and forth in annoyance every time the kittens she was carrying started to move. I should have known then.
The next time we saw the boys, they were 3 weeks old, and just learning to wrestle.
Ronan and Tighe are,
during the day
, very sweet, playful, cute, funny kitten boys - perfect little darlings...as kittens usually are. Nighttime, however, is a different story. Sometime around midnight (conveniently just at the exact time I am teetering on the edge of sleep), the kittens become possessed by demons...little furry demons who like to knock things off the dresser, claw at the side of the mattress, and burrow under the blankets to rasp your bare flesh with barbed tongues. (we think they're still trying to nurse. No more sleeping topless, no sir!) Also, theyare the kittens without fear. The squirt bottle doesn't work. Shouting doesn't work.
Nothing
works.
Months of battling the demon spawn and the resulting sleep deprivation have reduced me to tears, yelling and hysterical laughter (sometimes simultaneously)...all while stumbling around in the dark, muttering idle threats and using the f-word in increasingly creative ways. I slammed my knee into a hard edge of something at 4 in the morning and in the blur of pain decided two things: Tighe and Ronan will be sleeping locked in the (finished and pretty cozy) basement until further notice and, to hopefully cut down on the amount of crazy running through their veins, will also be getting neutered ASAP.