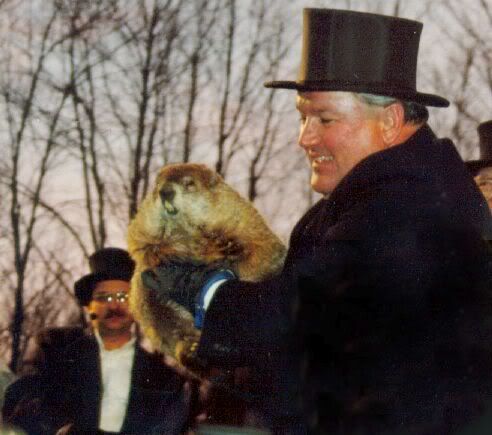 (the whistlepig of Gobbler's Knob has spoken)


I recently drove through Punxsutawney. It seemed to be a nice little town, nestled in the hills of Pennsylvania. Most of the city's major buildings like the Chamber of Commerce, the fire department, and the library all had appropriately themed
groundhog statuary
standing sentinel outside their entrances. We passed by the park in the town center where I imagine the festivities in honor of the mystical meteorologist marmot occur.
This seemingly odd tradition has a longer history than most people might expect.
Today is Candlemas, also known as Saint Brigid's Day in Ireland. Before Christianity came to Ireland, the day was called Imbolc, a festival dedicated to the goddess Brigid that celebrated the return of the sun after a long winter. People watched closely for omens, like animals peeking out from their dens, that would foretell an early spring.
Despite the various names for the day, their histories and traditions are so closely intertwined that it's difficult to see where one ends and the other begins. The human longing for the warmth of the sun is ancient and universal.