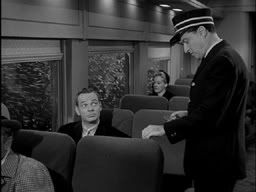 "Willoughby? Maybe it's wishful thinking nestled in a hidden part of a man's mind, or maybe it's the last stop in the vast design of things, or perhaps, for a man like Mr. Gart Williams, who climbed on a world that went by too fast, it's a place around the bend where he could jump off. Willoughby? Whatever it is, it comes with sunlight and serenity, and is a part of the Twilight Zone."
Rod Serling once lived in Canton, Ohio and when he traveled to New York City, his train would pass right through our little hometown. The quaint town square he saw from his window inspired him to write the Twilight Zone episode,
"A Stop at Willoughby."
(follow this link to watch the entire show!)
The train stop is gone now and the rail-car repair depot has been transformed into our favorite brewery but so much else has remained the same. Living here, I can really understand why Serling thought of Willoughby when he wanted to portray a lovely idyllic setting. You can stand on a street corner and so easily imagine all those who were here before you. And like the conductor said, it truly is a place "where a man can slow down to walk and live his life full measure..."