I've taken to wearing a long, thin spaghetti strap camisole and a looser shirt when I venture out while armed. The top shirt blurs the hard lines of my pistol and the camisole is just long enough to hide the muzzle. When I look in the mirror,
I
can see a bulge and can tell I'm carrying but so far, not one person has even given me a second glance. I think (unarmed? unaware? unthinking? unobservant?) people don't see it because they aren't really looking. It really gives me an odd feeling - as if I am living a different reality or am traveling through a different space than those around me.
__________________________

During the heat of summer (all 2 months of it), I like to wear skirts. I choose breezy flouncy knee length styles because they are much cooler than blue jeans and much more attractive than shorts. I'm trying to decide how to carry.
Belly?
Or thigh?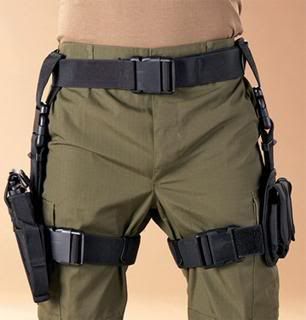 I think the belly band would be more practical but Mike is lobbying for the tactical thigh holster, thinking I'll wear it, and not much else, around the house.
__________________________
I went to Target today and as I was paying for socks and nail polish remover, I noticed that there was a young security guard standing near the entrance. An
unarmed
security guard. I suppose he was hired to make people "feel" safe; wearing a dark uniform, multiple embroidered badges and a batman belt he looked very official. He might have even had pepper spray. I envisioned something happening. A crazed gunman, a lunatic with a machete - whatever. If it could happen in a Chicago
Lane Bryant
, or an Omaha
shopping mall
it could happen in a Target here. (why not?)
But what could the security guard
do
, exactly?
Call for help and pray that someone with a gun arrives before it's too late.