(...and I don't even want to think about how many more we have to go.)
Final paint touchups have been completed, the tile has been scrubbed from top to bottom, and aside from finding the right little accessories - the powder room is finally finished.
Like any older house, ours has many of those little quirks that gives a place character. When the house was built in 1935, the powder room was originally a pantry and sometime between then and now, a previous owner decided to remodel - with peach tile. A
lot
of peach tile. But even though peach is one of my least favorite colors, I didn't want to tear it out because I moved into this house intending to keep and enhance some of its retro charm.
I suspect we got a good deal on the house because it needed a lot of cosmetic work. The people we bought it from developed a wallpaper fetish sometime in the early 1980's and hadn't redecorated since that time. Every room is wallpapered in some combination of stripes and flowers or striped flowers, or flowered stripes, and every room is a different color. They even wallpapered the baseboards in the bedroom, and hey, the ceiling in the powder room!
Here's a glimpse of what it looked like. The wallpaper on the ceiling was also a dark blue to match the walls but, as a bonus, it had butterflies! (argh.)
So we tore down the wallpaper, ripped out the old fluorescent lighting, got a pretty new sink and mirror, patched, painted, put up a faux tin tile ceiling, added some molding and look...
So pretty! And isn't the original tile floor lovely? I'd like to get a little wrought iron vanity stool to put by that mirrored shelf so ladies could sit there and powder their noses. I may also do an etched design on the glass, to dress it up a bit.
(I need some fancy hand towels now)
Don't you love the fancy bowl on the sink? I chose all brushed nickel for the hardware because I like the way it feels - the hardness of the metal plus the softness of the finish. And see the built-in niches next to the mirror? I'm searching for the perfect milk glass candle holders to put in there, and maybe teeny little ferns.
(I even changed the knobs on the cabinet to match the faucet)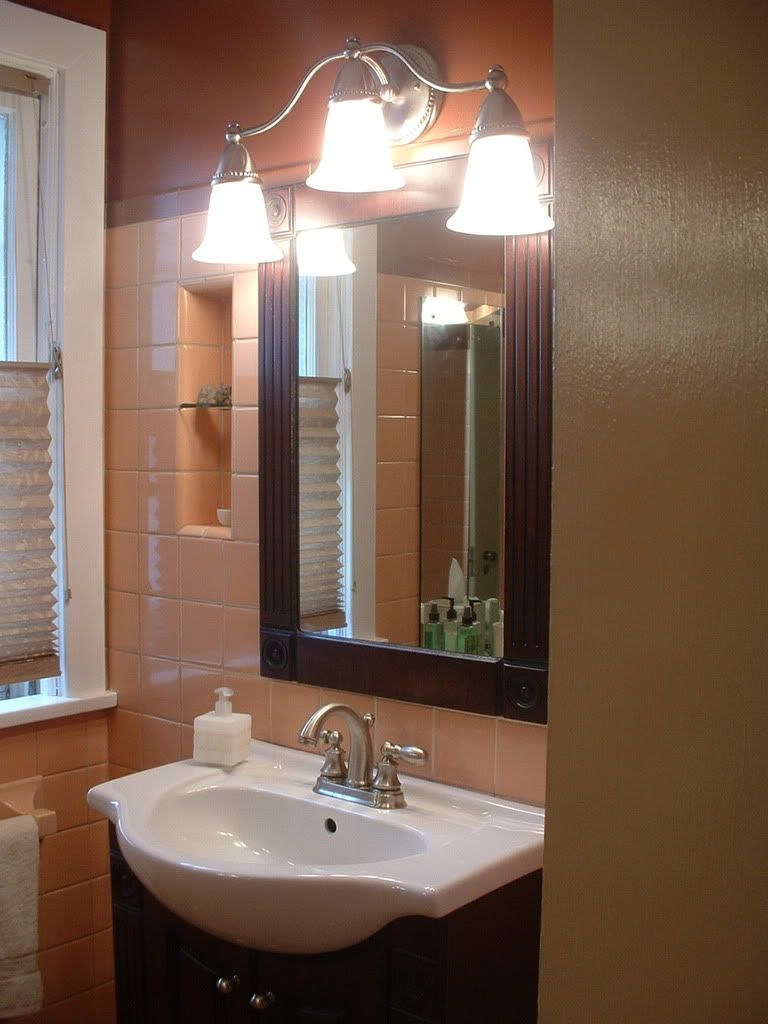 I know that it may have seemed crazy re-wallpapering the ceiling, but honestly, it looks so good that we're considering doing the entire first floor to match.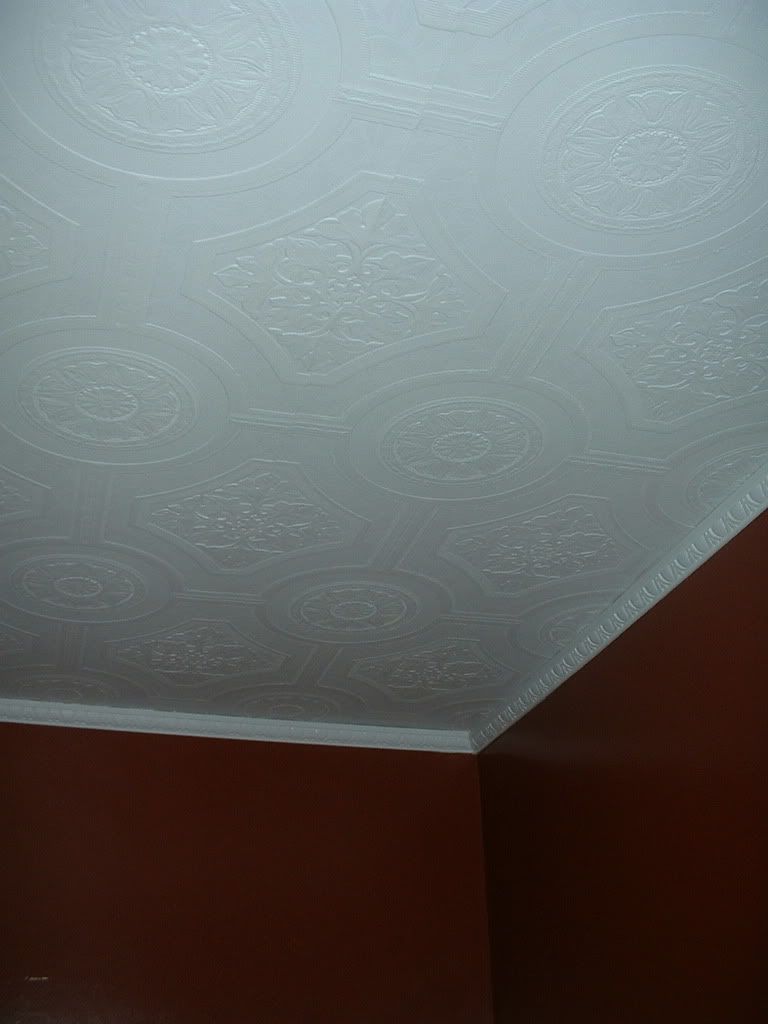 It feels really good to finally start making this place our own!