...and Holly! (yes, folks, a newbie two-fer!)
Holly and I work together at the library and
she was the first non-family chick
I ever took to the range. She enjoyed the experience so much that she went shooting with me again yesterday, and even brought Jen along. Despite playing for rival
roller derby teams
, Holly and Jen are close friends.
Jen had never shot a handgun before. She was smiling quietly when I first met her at the range, a bit tentative, perhaps a bit nervous. Holly, however, was raring to go. We got everyone eye and ear protection and headed in. Someone was shooting something big, so we were greeted by the sound of loud gunshots. Best to get the flinching over with in the beginning, I guess.
I set out the Ruger MarkII and the Taurus .22 revolver and went over the 4 Rules. I let Jen handle each pistol and showed her how to load them. She started with the revolver, shooting double action. She was hitting the target consistently at about 15 feet and did even better after I showed her how to pull the hammer back and shoot single action. Jen was a little afraid of the hot flying brass involved with semi-auto pistols, but bravely gave the MkII a try anyhow. She decided she liked revolvers better.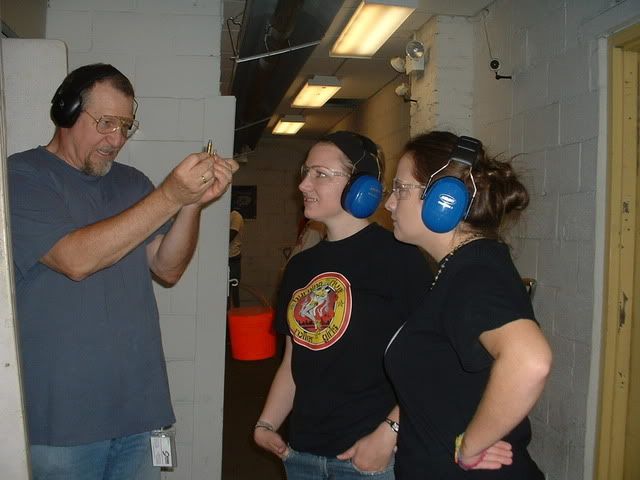 So after a short lesson on different calibers from Mike, it was time to try something a little bigger.
Jen really enjoyed Mike's
new Smith & Wesson
model 19...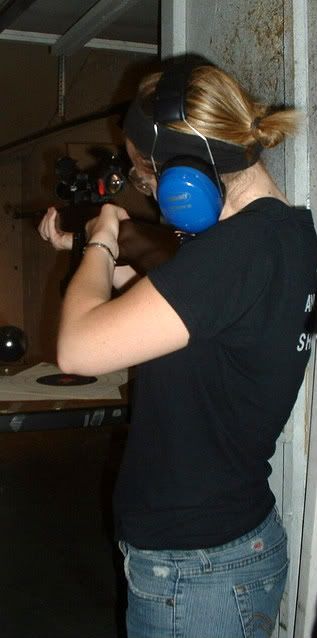 Just for fun, we also tried a little one-handed target practice, and even some 10/22 rifle shooting.
Derby girls,
even honorary ones
, know how to have a good time.