They had changed the rally to a smaller, indoor venue because of the weather. The line of people trying to get in was endless, snaking and looping around the parking lots of a large recreation center and despite the GOP's reputation as the party of rich old fogeys and rednecks in camouflage, there were a lot of young people and women in attendance. Everyone was in good spirits, though, happy to be part of the political process, gaping at all the news crews (BBC, AP, local) and security (
lots
of security - rooftop snipers, secret service, local police departments, highway patrol, U.S. marshals, swat teams, bomb squads, K9 units). Vendors were selling all the usual political swag - buttons, shirts, hats, and towels printed with Sarah Palin's face - and kind of gave the rally a carnival type atmosphere.
The waiting in line wasn't too bad but just as we got to the front of the building, they closed the doors because the room was already at capacity. But, we were told, if we could just be patient, they would be creating an outdoor stage because the candidates wanted to come outside to speak to those of us who had waited for so long. So we watched as front end loaders arrived with barriers and security set up a screening area where we would all get searched and wanded before being herded into a holding pen. We had never been through security like this - Mike had to surrender his pen knife, some officer riffled through my lipgloss collection and I held my breath when the wand passed over my prosthesis. Phew, no beeping except for my belt buckle*. We were in.
After another long wait, we saw the motorcade arrive. There were police cars and motorcycles, quite a few SUVs with tinted windows and two non-descript buses and one gigantic (it has separate
rooms
), very conspicuous bus. You might recognize it.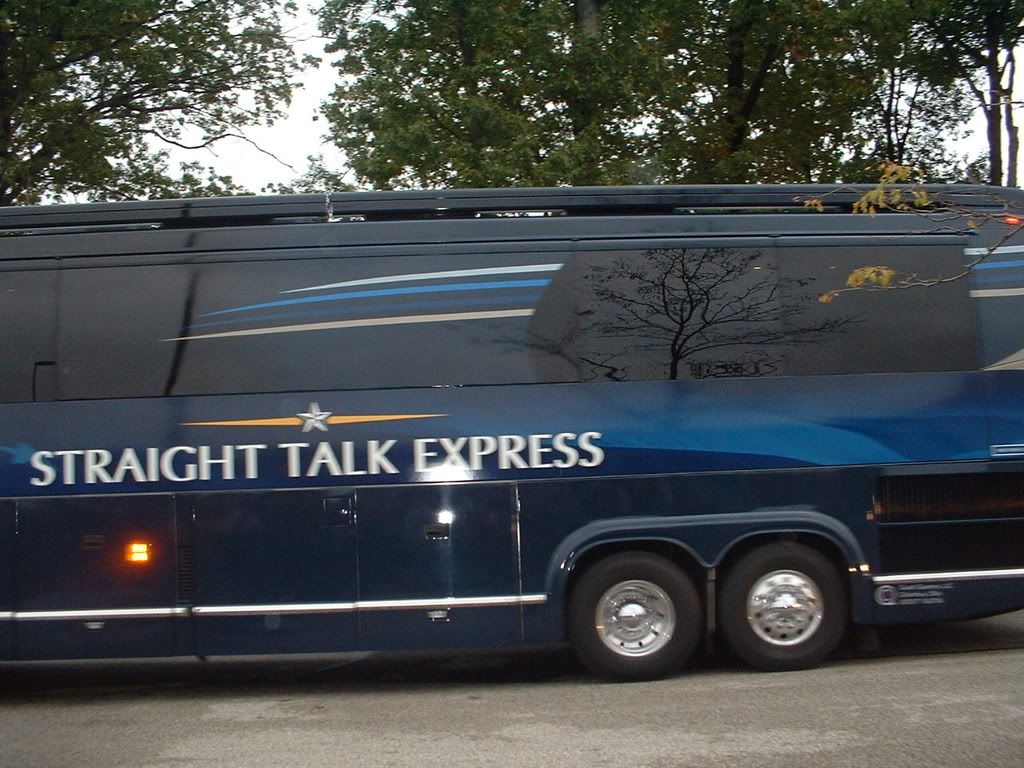 All of us in the pen cheered and waved as if we were at our very own little parade. It was 5:30PM and we had already been waiting (and standing) for hours. But despite tired feet, low blood sugar, the non-stop drizzle and rapidly cooling temperatures we were determined to stay until the end. Compared to St. Patrick's Day parades downtown, with the icy wind whipping in off the lake, this was nothing. It was nice to be with a bunch of like-minded people so we talked politics and complete strangers loaned each other jackets, moms shared coloring books and snacks with each other's kids, and someone in the parking lot turned up their car radio so that we could hear the speeches. We amused ourselves with the elaborate security spectacle - watching the guys on the rooftops with binoculars and the bomb sniffing dogs, trying to guess where the men with the earwigs were carrying their firearms. We all, collectively, made the best of it. Cleveland's Republicans are tough.
In almost no time at all, and as if by magic, a crew appeared and set up an entire stage, spotlights and sound system. Some guy came out and tested the microphones and we cheered for that too. The speeches inside had ended and we told that that the Senator and the Governor would be out to see us soon. Music came over the loud speakers to energize the crowd
(
this of course, was the first song
). The sun was setting and it was growing colder by the minute but things were happening now, the crowd was excited. I found a spot against the barrier and waited, shivering. I checked my camera and hoped I was in the right spot. Chants of "Sarah, Sarah, Sarah!" erupted sporadically. Then a cheer went up at the far end of the crowd - the candidates had arrived. I leaned as far as I could over the railing to see...**
John McCain, Sarah Palin, and Cindy McCain on stage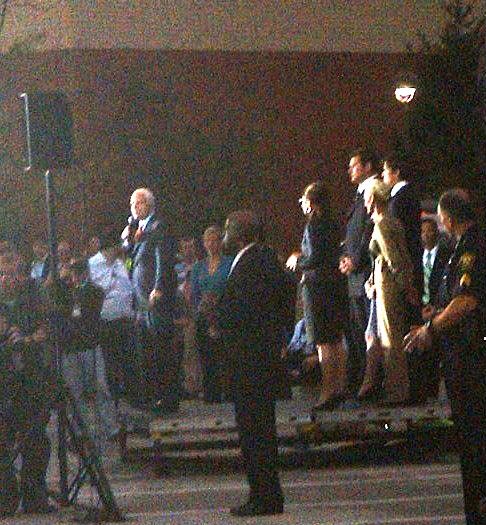 After a short speech on reform and real change and requests to "get out the vote in Ohio"***, the McCains walked down our side of the barrier to meet their supporters.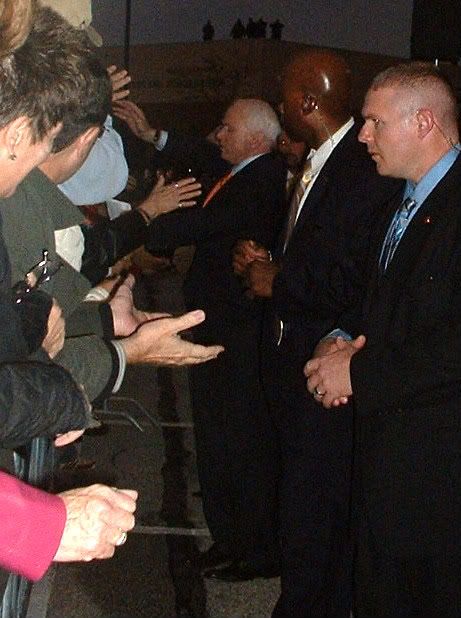 They were moving very quickly down the line, and when John McCain shook my hand I said something like, "Thank you, Senator." Cindy was following behind him and I said, "Hi, Cindy!" and shook her hand. She thanked me for being there.
The Straight Talk Express was waiting and the candidates were being hustled on to the bus but Sarah Palin, who was shaking hands on the other side, stopped to wave at us and blow a kiss in our general direction. I think she was flirting with Mike. (Who could blame her?) She was beautiful, of course, but the thing that struck me was her genuine enthusiasm. She honestly looked thrilled to see us, and so happy to be able to speak to us. I don't know what that mysterious "It" is, but Sarah positively radiates it.
They boarded the bus and John McCain went and sat in the back with his family. Sarah sat in a seat near the driver next to the door and smiled and waved at us as they drove away...and then they were gone.
The local media got better coverage than I did, so here's a few links:
A photo gallery
Some of Sarah's speech
A one-on-one interview with the candidates by a local news station
_________________

*which the security guy grabbed. Watch the hands there, buster.
**I took photos, and have tried to edit them as much I could, but because it was already dark out and my camera is not the best, they are not great quality. I'm posting them because I suspect you'll want to see them anyway. Embiggen them, it might help.
*** I've volunteered to go door-to-door this Sunday.