With so much going on in the world I've completely overlooked blogging about the little feline universe inside my home. There are daily occurrences that make me smile like when Oona leans up against the heat vent because she's cold or when Eloise waves her paw in the air for a treat. Desmond purrs when you talk to him and has recently decided that he wants to be a lap cat. This is an awkward thing, considering he is probably close to 20 pounds and my lap isn't that big.
Our two youngest, Tighe and Ronan, have grown into big boy cats. They have started to settle down a little but rest assured, if there is naughtiness going on in the house, you can still bet it's one of them. We've tried every sort of cat discipline you can imagine but nothing works. They just look at us with that little "huh?" look on their faces and run away, only to come back moments later to make a game out of it. As exasperating as they sometimes are, we forgive them most anything because they do things like this...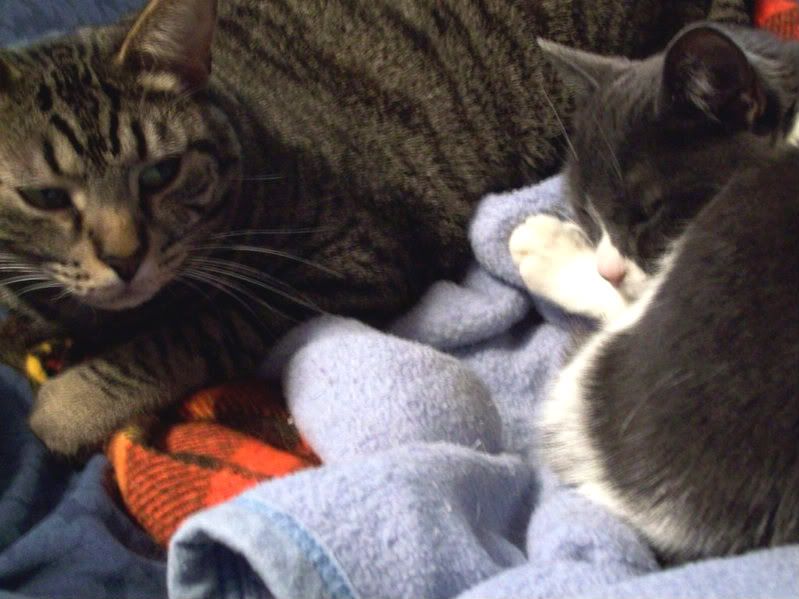 That's Ronan in the papasan chair with
Fae
, who was the runt of her litter. She was constantly ganged up on by her littermates which made her timid and shy, even with other cats. She's still the tiniest cat you ever saw in your life, and will hide at the slightest provocation but somehow Ronan and his brother Tighe have convinced her she need not be afraid of them. Ronan will snuggle up with her and Tighe will play a gentle little chase game with her and they are both so careful with her that it seems like they know that she needs special consideration. Cat love is a mysterious thing.
And here's another photo just so you can see the size difference. Ronan, who despite his somewhat dumpling-shaped physique, is really a normal sized cat. He is a year and a half old and Fae is almost 5.