Anyone who has lived in the Cleveland area for any length of time will tell you how we feel about summer. We
yearn
for it. We long for sunshine throughout the gray of spring and autumn and dream of warmth while the world is encased in winter's ice. By the time April comes, you can almost sense the excitement. People are ready, waiting for That Day when you can finally open the windows and put away the woolens, sure that the weather is only going to get better.
I'm still waiting.
Now, it's not exactly parka weather but for a month or so, I've been saying that I haven't felt I've had a summer at all. We've had weeks of cool and rainy weather and I can count the numbers of times we've turned on the A/C on one hand. My feeling of anticipation has yet to abate because summer really hasn't arrived this year. My tomatoes aren't ripening, I've had to wear sweaters in July and honestly I feel a bit cheated.
So when a local news site ran
this story on how devastating global warming will be to the Cleveland area
, I scoffed. Loudly. In the middle of the library. And then, of course, in typical librarian fashion, I had to research the temperature averages for this summer.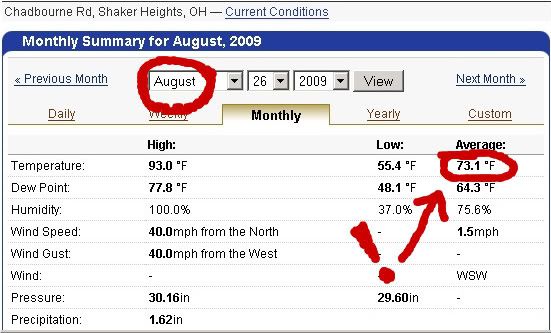 And July? Even worse with an average temperature of 69.1 °F.
So while these "environmental groups" are having hysterics about global warming, I guess we Clevelanders will be shivering and pulling on another pair of socks.