Prior to Blogorado, (and aside from plinking with a 10/22 at an indoor 50 ft. range) I had shot rifles twice - once at
Appleseed
and once at my friend
Heath's farm.
I don't really know anything about zeroing, windage, clicks, or elevation...
I just know I love to shoot. Or rather, I love everything that leads up to pulling the trigger.
(the view through the scope. The target is in the upper left quadrant.)

That barrel was so small and so very far away, even through the scope. I was told it lasered in at 970 yards - but all I knew was that it was somewhere out there on the horizon and I wanted to hit it with a bullet. Somehow.
I tried to get my breathing under control as I searched for my target through the scope. I watched my own heartbeat make the crosshairs dance. I tried to touch the rifle without really touching it. I willed myself into stillness.
(me at Blogorado, shooting the M24, 970 yards)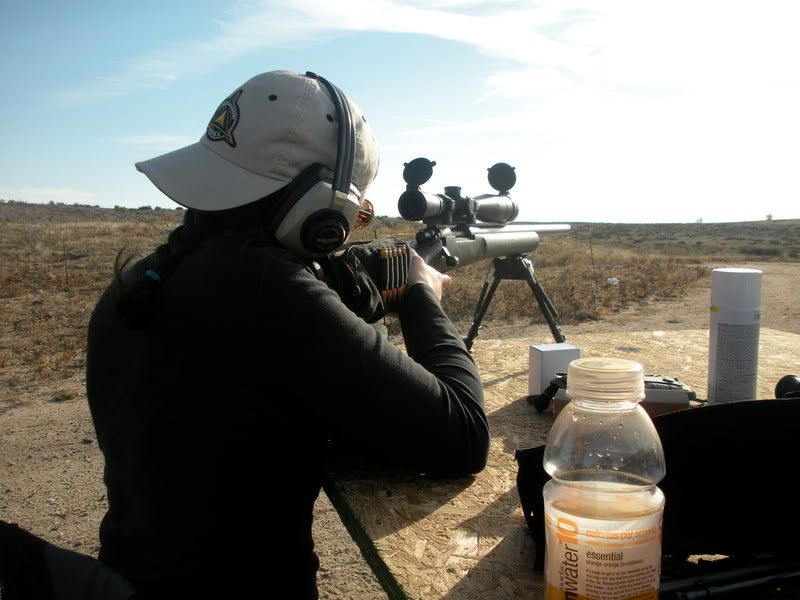 I exhaled. Readjusted. Ignored the wind that had been plaguing my shooting all day. Tried to find that moment when you know you should squeeze the trigger.
And missed.
I remember watching my first shot send up a big plume of dust somewhere low and to the right of the barrel.
I sighed and began my meditation again. Just me, the rifle, the wind, and a steady slow movement of one fingertip. I sent the last 4 shots through the barrel. Direct hits.
OldNFO
told me later that I took too long making my shots and in retrospect, I suppose it's true...I could have stayed out there all day, savoring the process. There is great peace to be found on the high plains, the warmth of the setting sun on your face, waiting for that moment of hush behind a rifle.