This past weekend, after a long hiatus, I finally took a woman to the range to introduce her to shooting. Lucky for me, it was the
Unforgiving Minute blogger TD
's girlfriend, Carrie. TD and I have been friends for a while now and I was delighted when he asked me if they could come visit for sushi and shooting. I'm still not entirely sure why he didn't want to teach her to shoot himself (something about "bad habits" and such.) But whatever - I was happy to help.
TD and Carrie arrived in Willoughby on Friday night and we met them at the brewery. After dinner, we headed back to the house so everyone could meet the cats (Ronan, mostly, because he's such an attention hog, but Oona did put on a spectacular catnip show.) We also had a little firearm show-and-tell and discussed the 4 Rules with Carrie, who dazzled us all with her brilliance by reciting them back - in order - after only hearing them once.
The next morning, after fortifying ourselves at Waffle House, we headed to the range. I used a Ruger Mark II and a Taurus revolver (both .22s) to show Carrie the basics. We discussed the difference between semiautomatics and revolvers, single action vs. double action, stance, and how to properly hold a pistol.
I really liked how Carrie not only really liked shooting, but also was interested in the how's and why's of shooting. She asked questions that I had never even thought of, like "What makes .38 special so special?"
Once she was satisfied with the answers, was ready to shoot. She is fearless and a naturally good shot. After I noticed she was flinching a little from anticipating recoil, I told her to squeeze the trigger as slow as humanly possible and it worked like a charm - just like that, she was back on target.
She tried every pistol we brought, and even liked shooting the .357. Future recoil junkie, I know it.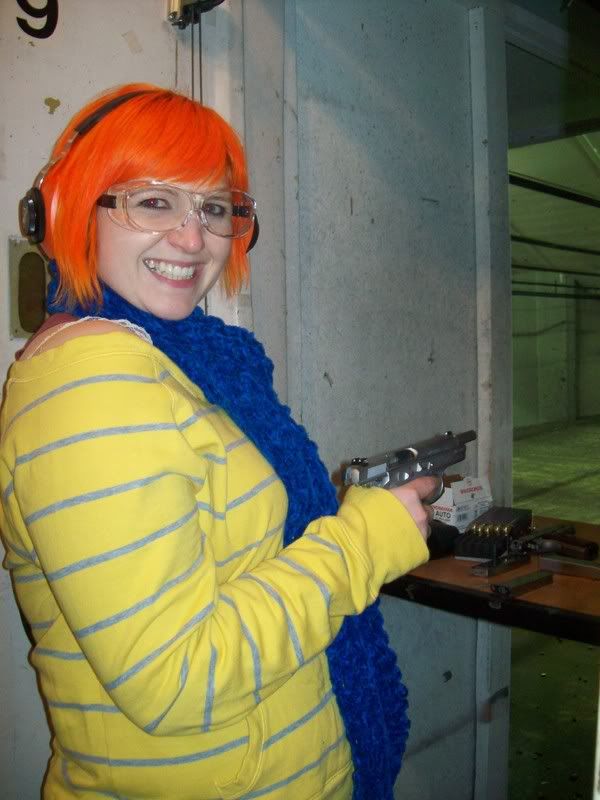 I have a feeling that TD and Carrie are going to be having quite a few date nights at the range.