When we began house hunting, Mike and I had a list of things that we wanted: hardwood floors, a fireplace, two stories, a dining room, near downtown Willoughby. We loved the neighborhoods here - walking distance from a library, shops, restaurants (and, of course, a brewery) and full of older homes that all have their own unique charm. We also both agreed that a place with a few fixer-upper type projects would be good for us. I like painting and Mike can be a decent handyman when he sets his mind to it.
It was love at first sight when we found this house and according to the listing, it had everything we wanted. The first viewing revealed gorgeous floors, solid plaster walls, a large dining room with a bay window looking out over the yard and a little kitchen...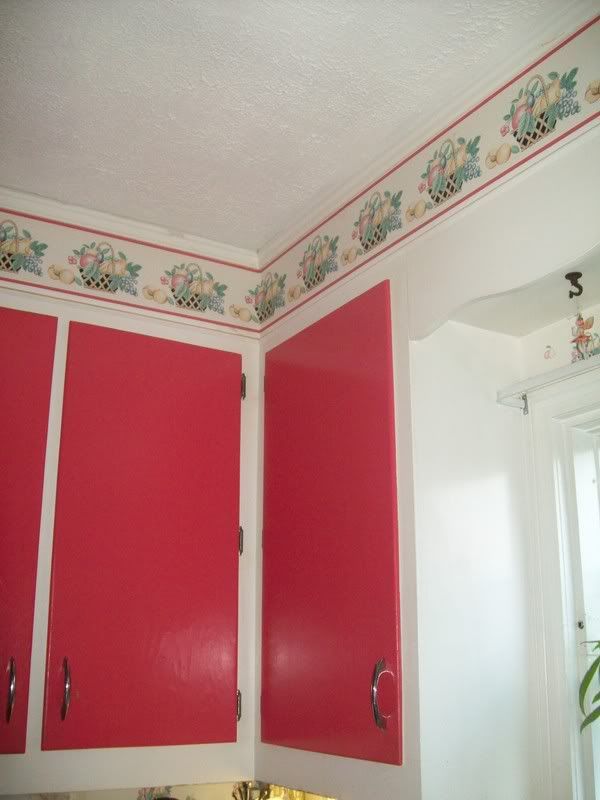 ...that was apparently decorated by an overzealous, acid tripping Carmen Miranda. There was wallpaper with fruit baskets, a matching fruit basket border and
those cabinets
. I suppose the previous owners were trying to be clever and paint the cabinets a red to match the apples in the fruit baskets but what they got was a dark pinkish coral, not red. Red I might have liked. Red I could have worked with. (Maybe.)
But when I walked into that kitchen for the first time, I swear I felt my heart stop in horror. The owners had every light on and the color fairly glowed with menace. And despite the realization that I'd be up to my elbows in chemicals just trying to be rid of that not-red red, we bought the house anyway.
And so here we are.
The wallpaper is all gone, the cabinets will soon be painted white, and I am looking forward to the serenity of neutrals.