I could spend all day blogging about how horrible the news is, our failure of a president, or guns and shooting but really? I look out the window of my back porch, see this
and it's all over. All I want to do is get outside, get my hands dirty, and feel the sun on my neck. We've got our little garden planted - a few tomatoes (even a delightfully odd heirloom purple),
lots
of peppers (hot and not), and the usual wide variety of herbs. I put in a few sweet peas, some
tomatillos for my salsa
, and what I call the great eggplant experiment. I've never attempted to grow them before but the varieties, which produce a black and a white fruit, were called Hansel and Gretel - how could I resist?
We also have a squash type thing growing. Or it could be a cucumber. Or maybe even pumpkin! The seed snuck in from the compost pile and found a happy home in amongst the jalapenos. It's like the mystery grab bag plant - we're excited to see what we get.
I've planted a few flowers, too, just for the pretty.
Check out the planter I made out of a section of old hollow tree trunk. (It's the best kind of clever & lovely - free.)
And just for fun, here's a bonus photo of two naughty boy tabbies surveying their domain from the bay window.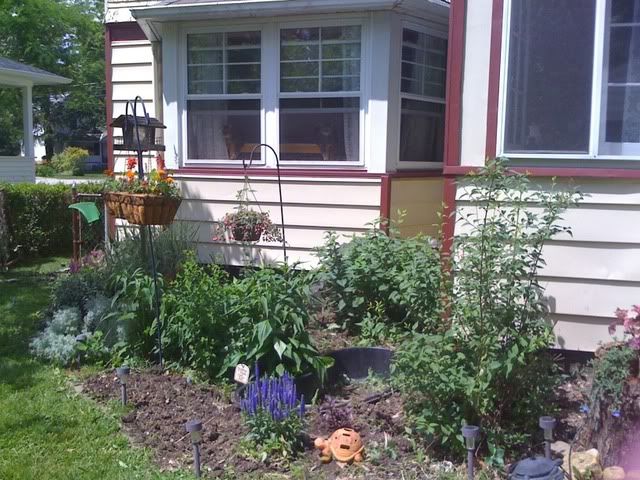 (all photos can be enlarged by clicking on them)