Yesterday, I had the pleasure of meeting up with
fellow #gunblogger_conspirator THOTpd
(Ugh, I look so sweaty. It was a million and five degrees on the range)
for lunch and some shooting. I hadn't been to the range in...well...months and months but when I walked through the door, I got a big huggy hello from the guy who was working, along with a bit of good natured ribbing.
"What's up, Breda? You haven't been here in forever. Are you shooting somewhere else, don't you like us anymore?"
I mentioned how money had been a little tight lately. "Yay, economy," I said.
That got a sage nod in response - it seems everyone has been feeling it lately. Still, I was excited. All range trips are fun, but this one really felt like a treat somehow - eating cheeseburgers with a new friend and my first time shooting since getting hurt in the car accident.
After a frustrating period of fiddling around with the Ruger Mk II (failure to feed properly) I decided to put it away and shoot my Bersa. I didn't do too poorly, considering my recent lack of practice.
But, of course, there's always one that gets away...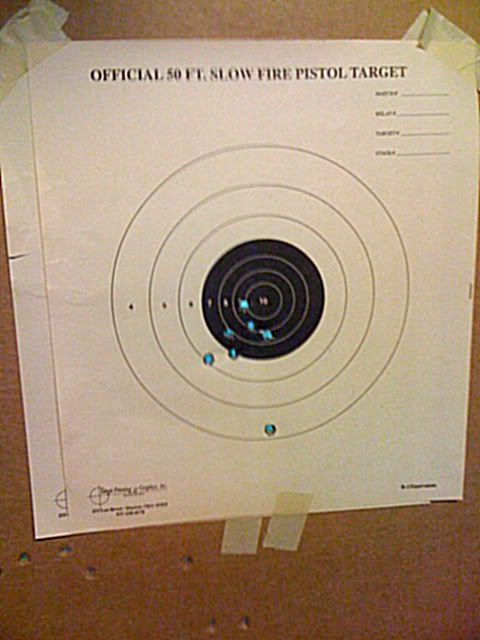 THOT brought his own Bersa, which he didn't shoot. (".380 is like gold!") But the two pistols sure look cute together, like kissing cousins. I just wonder why the trigger guards are different shapes.
I shot THOT's Springfield Champion that he brought along because he knows I'm a M1911 fan. (thank you!) It's a wonderful pistol.
I had to quit shooting before I really wanted to because my neck had started to hurt, but I had a great time anyway. I had missed shooting more than I realized.