Filling out your first 4473 is always a special moment. There is a heady mix of excitement and hesitation. You think, "Did I fill it out correctly? Is there something I don't know about in my permanent record?" You fill in the blanks, neatly fill in your X's and 10 minutes later...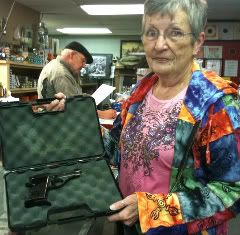 Mom passed and is now officially a gun owner! (And it's a beaut!)
She's already talking about needing some pink grips and since the pistol came with only one magazine, I guess we'll be hunting for accessories (which seems to be a search akin to the one for the Holy Grail. My librarian fu has turned up nothing so far)
Range report coming soon!