I'm convinced that people who hate vegetables have never had vegetables properly prepared.
We've all suffered through the mushy, faded, bitter, boiled and buttered version of Brussels sprouts but take a look at this...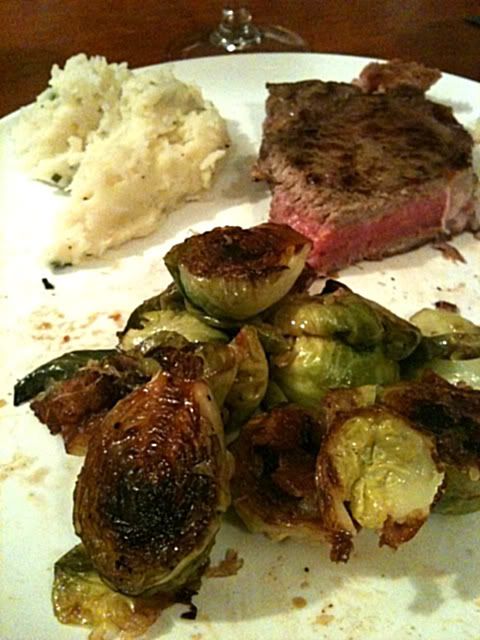 Yes, those perfectly caramelized little beauties are, in fact, one of the most dreaded vegetables ever to grace a 9-year old's dinner plate. Yet with some heat, attention, and minimal amounts of culinary skill, they have been magically transformed into something seriously delicious. They will taste nothing like you remember, I promise. *
Sprout Sauté
fresh Brussels sprouts, washed
olive oil
salt and pepper
balsamic vinegar
crumbled bacon
Parmesan cheese
1. Trim the stem ends of the Brussels sprouts and cut them in half lengthwise. Discard any loose or blemished leaves
2. Heat up the olive oil, enough to thoroughly coat the bottom of your pan. Medium to medium-high heat should be fine.
3. Place the sprouts flat side down in the pan and let them cook a few minutes. Check one to see how brown it is getting. Once the sprouts start getting a good color, sprinkle with salt and pepper to taste and begin to stir, cooking them on all sides. Turn the heat down a bit if the outsides are browning too fast because you also need the inside to cook.
4. Cook a few minutes, and poke a sprout with a fork to check for tenderness. Once it is to your liking, deglaze the pan with a little balsamic vinegar, scraping up any yummy caramelized bits and tossing the sprouts in the liquid. Let the liquid evaporate then throw in the bacon and cheese.
5. Serve and eat immediately.
6. Say "zOMG! these are
Brussels sprouts
!?"
7. Start plotting for the next time you can make this recipe.
*In fact, the Brussels sprouts were so good I keep eating them until they were all gone, causing me to completely neglect my steak. Anyone who knows me will tell you that this is very nearly a miracle because I am deeply passionate and devoted in my love for red meat.