Women, when joined in a common cause, have long been a driving force for change in western culture. We fought for suffrage, threw off our corsets, and got to work. The world has not been the same since.
So here we are now, women as purely free people - able to control our own destinies and to be as strong and as bold as we desire. Liberties abound, ours for the taking, and the choices we make today as gunowners can ensure that future generations will be able to scoff at the idea that we were once somehow less, and even more so that someone dared reinforce the notion. "How absurd," they'll say, the concept of women being victimized as the weaker sex as barbaric and abhorrent as the practice of footbinding is to us in the present. "Why didn't they just carry a gun?" And why not, indeed.
So, women, carry your guns.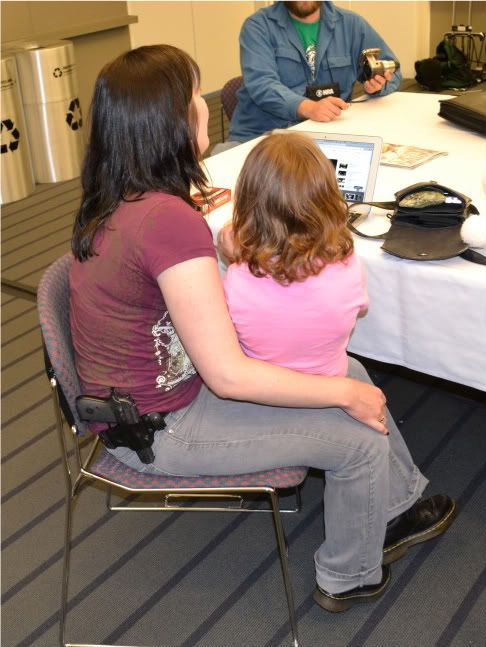 You can create the future while securing your own.
____________________
*special thanks to
NancyR
for loaning me her Sweet Daughter for an afternoon during the 2011 NRA Annual Meeting. We ate brownies, got free tactical hats, giggled at kitty videos on the internet, rode up and down (& up and down) the escalators, carried a stuffed bunny around the exhibit hall...all while I carried a gun on my hip - and it was fun! The new normal, one girl at a time.
** And EXTRA special thanks to
JayG
, my own personal paparazzi.