I'd like to be able to say that nothing at all happened on the 1st Annual OC Nonevent but something did. But even then, that really wasn't much of a big deal, either.
I went to Walmart and was told, by a woman I assume is an employee, that I needed to cover my gun. She told me that the store has a "no open weapons" sign on the door and I needed to pull my shirt over my gun. So, not wanting to cause a fuss on Nonevent Day, I complied. I then proceeded to walk through the store with a big gun-shaped lump under my tank top.
But really - who could blame her, right? This is how scary I looked: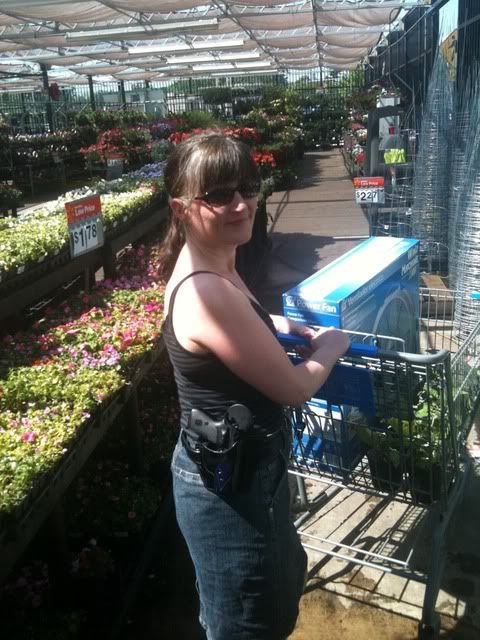 Tiny woman in a skirt! With a gun! And a ponytail! (the bigger deal here was the skirt, trust me)
Anyway, the five remaining minutes Mike and I were in the store were spent asking each other,"Is there a sign? I've never seen a sign. Did you see a sign?"
We checked on the way out. No sign. And besides, a "cover up your gun" sign doesn't technically exist in Ohio. She could have asked me to leave if the building had it been posted with a "gun free zone" sign, but there wasn't one of those either.
So I guess I'll be writing a letter to Walmart corporation, asking them to remind the store manager of their open carry policy, which is to follow state laws.
After Walmart, I went inside a gas station to buy some diet coke and chips then we went for a walk in the park. We saw gigantic tadpoles and I think I might have gotten about eleventy million freckles but nothing else happened. Then we bought iced teas at the coffeehouse and walked around downtown Willoughby.
I then went home and ate some blueberry birthday pie, still a bit miffed that I had to hide my pretty new
Dragon Leatherworks
holster.
- Posted using BlogPress from my iPhone