We went to the gun show today looking for deals on ammo and 9mms. I walked the aisles more confidently this time than my last...I know what I am looking for, I am now comfortable handling firearms and when the old gunnie guys ask if I can rack the slide? No problem!
I smirked and raised the eyebrow of doom at one man who told me that a certain gun was "too much for a girl my size" (he later said, "No offense") and I made one man laugh because when I was handed a Walther P22 I said, "It feels nice, but really, I want something bigger." (typing that out just now, I suddenly realize how naughty that must have sounded. Oops!)
Anyway, I fondled a lot of guns and just based on weight (I like a little heavier pistol, it feels sturdier and absorbs more recoil) and on how it feels in my hand, I think I may have found my gun: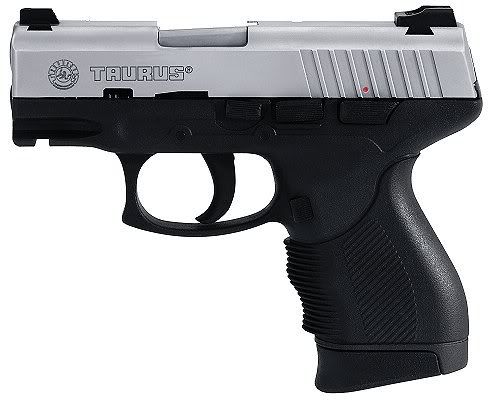 Maybe. I so wish I could try before I buy. Purchasing a gun without firing it seems like buying a car without test-driving. It doesn't make sense to me.
But I like this pistol a lot. I like that it comes with two different sized magazines, has a comfy rubber grip and that it seems easy to clean.
I also saw one of these:
and it was darn near irresistible.