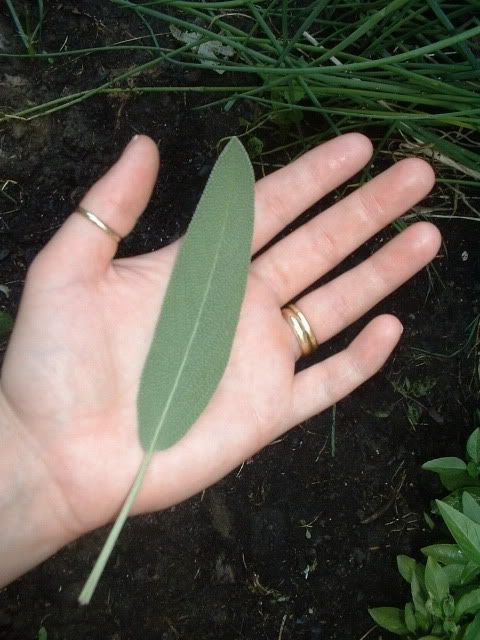 a sage leaf from my garden.
Because of my herb gardening, I decided to buy a food dehydrator. I hate the idea of wasting all of those herbs at the end of the season when I cut the plants back. I also like the idea of being able to use my own herbs throughout the winter, not having to rely on prepackaged stuff from the store. Homegrown is always much more flavorful, not to mention guaranteed organic.
Anyway, since the weather's still warm and the sun is still shining, I've been holding off on cutting back the herbs. I've moved the bay laurel tree and the rosemary pots to the side of the house with the most sun and I'm cheering on the jalapeño plant, which is still trying to make more peppers. All this leaves me with an empty food dehydrator, however, so I've been experimenting with fruit.
Cinnamon apple slices are nice, dried plums are tangy and chewy, and dried watermelon is like candy. Sweeter than candy, actually. So intensely, insanely sweet I can only stand eating a tiny piece at a time. The flavor is the exact same as watermelon Jolly Rancher candies. Next up, cantaloupe!
...I guess I'm also going to have to break down eventually and make some beef jerky for the husband. As nervous as raw meat sitting out makes me, people assure me it's safe...what's the worst that could happen? (she asked laughingly.)
(past food posts)