I've always been fascinated and charmed by
bento
, Japanese boxed meals. Portable containers with small portions of various edibles, some of them are
little delicious works of art.
I've wanted to try my hand at making bentos, but didn't have a reason until now.
Mike has joined a weight loss contest at work. There's a cash prize at the end, so I'm determined that he will win. Within the first five days of this new diet, he had lost an astonishing 9 pounds! Yesterday he told me that because of his scaled down meals he starts to get hungry for a snack around 2 o'clock in the afternoon. As I was suggesting something sort of protein-filled like cheese or nuts to tide him over, I had the thought. Bento! Snack bento!
"I'm going to make you a little bento!" I exclaimed, bouncing in excitement.
"Um. Okay." Mike said.
So I went to the store, gathered up some yummy stuff, and spent an hour making this (I had to devil the eggs):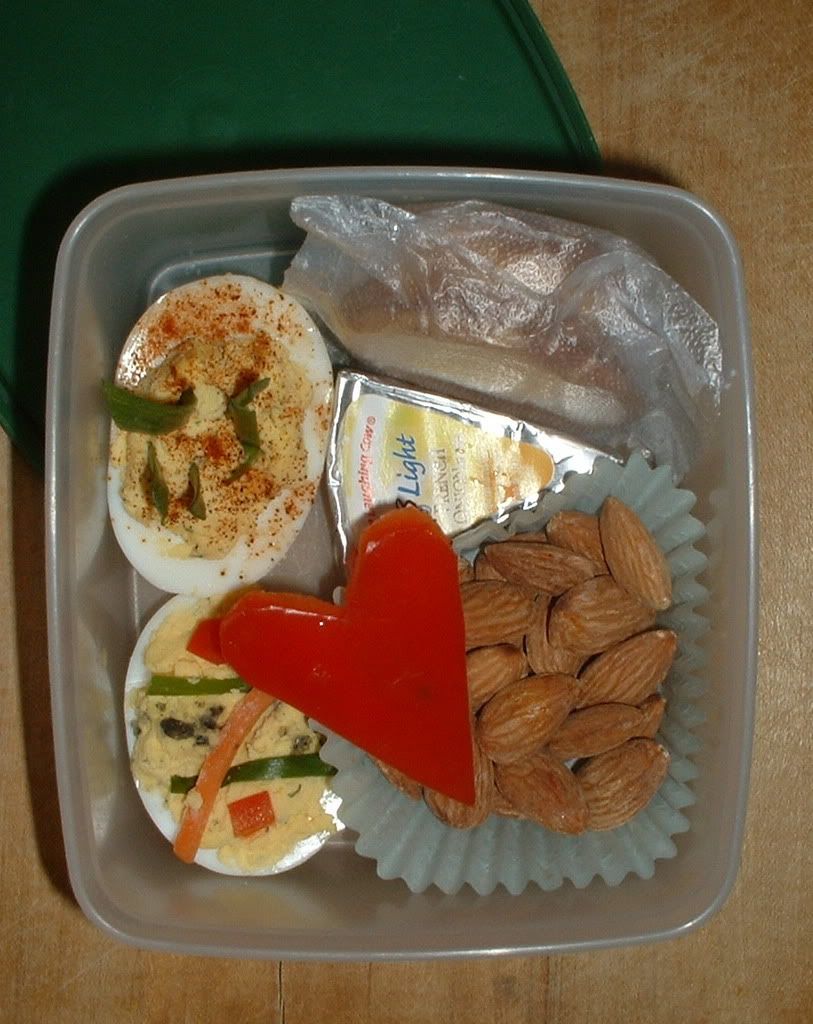 Two no-mayo devilled eggs decorated with black sea salt, scallions, paprika and carrot, a few dry roasted almonds, a wedge of light French onion Laughing Cow cheese, and some low fat multi-grain crackers...and a heart cut out of a piece of red bell pepper.
Cute!
I made Mike wait until this afternoon to open his bento, I wanted it to be a surprise. He loved it! The pepper valentine made him say "awww..." and he said the eggs were really good, even without the mayo.
This diet is also making me try out new cooking methods using more whole foods, like fresh vegetables, beans, and whole grains. We are eating more fish and salads and eating less beef and potatoes. It pains me to say it but we really cannot live on the beer/bacon/banana bread diet forever. Well, we
could
...but that would mean that forever wouldn't be all that long a time, you know?