Some of the clever, funny guys I used to game with (
yes,

game

...
with the dice and the miniatures. I've been saying I'm a total geek for how long now?) apparently
lurk on
read my blog and are having a great time tormenting me with isopods.
(hello, heebie-jeebies!)
Ed, who was best man at our wedding, has been putting his renowned creativity and twisted sense of humor to good(?) use, making LOLisopods just for me.
Nightmares, the gift that keeps on giving. (Ed has since assured me that giant isopods are too large to fit a sanitary sewer. Sweet of him.)
Arthur, who was also in our wedding, sent me this touching photo from that memorable day. It was captioned: "Unfortunately Breda had to wait until her wedding day to see what was under the "Michael" mask."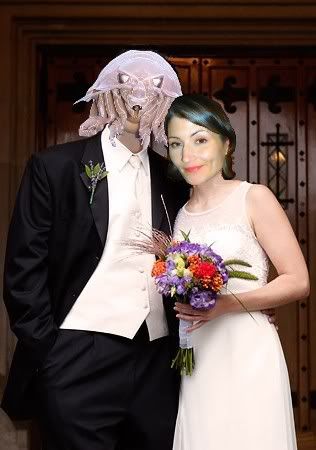 The tentacles make him a little hard to kiss, but he's still a really great husband.