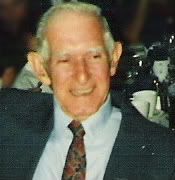 I was 19 when my father died, and for a long while after I would visit the cemetery, sit in the grass next to where he was buried and say "Hi, Daddy," as I patted his headstone. Maybe I visited more often than was healthy for me but I felt lost, and I just didn't know what else to do. I'd bring him flowers cut from his own garden and tell him how I was doing in my college classes and about all of my silly part-time coffeehouse jobs. I'd try to remember him in happier times - laughing and smiling and strong, instead of slowly wasting away from cancer - but these visits often ended with tears and the question, "Oh, I miss you. I need you. Where did you
go
?"
It was a beautiful day today so Mike and I took a drive. The sky was blue, the world was green and growing and I had the windows down. We drove past the crowded cemetery and I waved. "Hi, Daddy. Happy father's day!"
But we didn't need to stop. I know where he is now.
I carry him in my heart.
_____________________

(A happy day to all of the fathers on my blogroll and to the fathers who read my blog. )