The other day Mike and I were talking about a m1911 they had for sale at the range. Mike has been drooling over it for a while now and wanted to know if I had objections to him buying it. I must have given him one of those exasperated looks because he suggested that he could sell one of our other guns.
Suddenly, I felt very protective. "What? How could you choose one? I like them all. And you're
not
selling my .38." (Technically, it is
his
.38 - but I consider it part of his dowry. Besides, I shoot it more than he does.)
"Well, I could sell that rifle that's over at my brothers' house. And I'm pretty sure I've got a 9mm floating around somewhere."
I stared at him for a moment, completely incredulous. "Wait a second. You have guns I didn't know about? A rifle? And a 9mm?"
Mike was puttering around in the kitchen, making a snack, so I wasn't getting much in the way of response. "Yeah, well," he said. "When we first got married, you didn't like guns. So I asked other people to hold onto them for me."
"But I like them
now
, so can we get them back? Where is the 9mm?" I asked, hoping for more shooty goodness.
Mike thought for a minute. "I think Ed has it." Ed has been Mike's best friend since they were 14.
"You
think
? How can you not know?" This is what I get for marrying the most easygoing man on earth. "Call him, and your brother about the rifle, right now."
But Mike was not going to be distracted from his snack. "I'll call them later, I'll see them both at the game soon anyway."
Oh, the suspense, the sheer torture of waiting! I pestered him for an entire week. ("did you call? didja, didja, huh?")
But in the end, the guys came through. Mike came home Sunday evening with the two missing firearms. An unremarkable 9mm that neither of us are interested in shooting and neither of us will carry so up for sale it goes. But the rifle is a .22! (Marlin model 60) Ed had bought this rifle at Woolworth's as a birthday gift for Mike, when Mike turned 18. We're keeping this one.
While looking at the rifle, I noticed this:
"Hey!" I said. "Look! It has a cute little squirrel on it! Awww...I
love
it!"
"Um, Breda? I think it has a squirrel on it because that's what you're supposed to shoot with it."
Oh.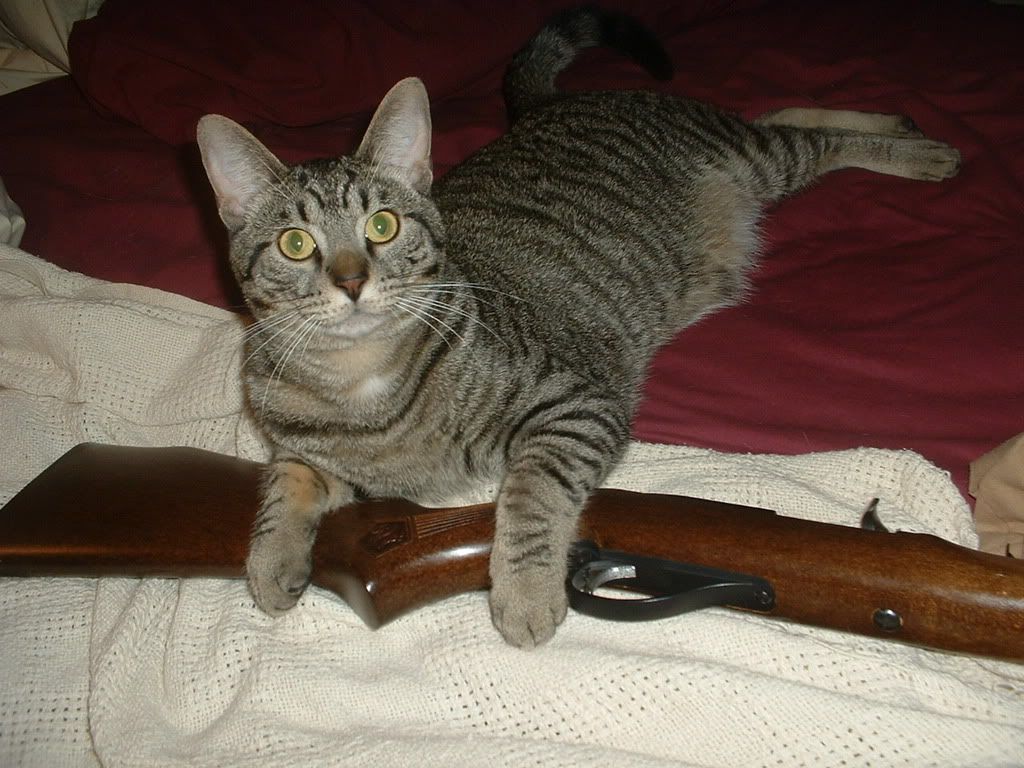 Still, we won't be shooting any of our fuzzy backyard friends despite the cats' enthusiasm about the idea.