This post from Marko
has bothered me since 9:30 this morning. I keep going back and looking at that photo...a woman, a
human being
, reduced to nothing. She stands behind her husband like a shadow - shapeless, colorless, nameless, and faceless.
I don't know if it's culture or religion, but it is abhorrent. Perverse. Evil.
And where are the feminists? Where are the protests? Where is the
UN
's Division for the Advancement of Women? Where are the shouts of outrage from the universal sisterhood, demanding choice and freedom? It was making me heartsick.
And then this afternoon, thanks to
Michelle Malkin
, I realized that
hope will soon come for these women. Women who for so long have lived like someone else's property and walked through life in a shroud, will get a glimpse at freedom. They will know the full, pure, beauty of it...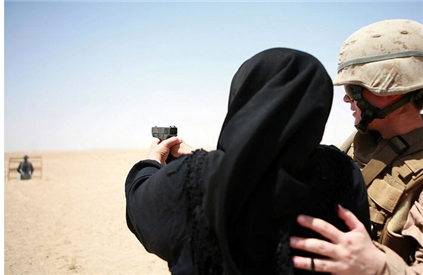 ...and they will spread the word.