She loved it. (See the gunchick smile?)
Mom Fallacy and I had a wonderful mother-daughter afternoon at the range. When we arrived after reviewing the
4 Rules
in the car on the drive over, we were warmly greeted by the range attendant. "Mom!!" he said when he saw her get out of the car. "What are you going to shoot?"
"I'm not really sure," Mom said, laughing. I had brought a handful of pistols and the Glenfield model 60 rifle, which I handed to her. I figured it was light enough for her to carry...so there she was, my mom, standing on the sidewalk with a rifle in her hand. It was really very cute, but...
"We'd better go in, Mom. We don't want any awkward conversations with the police."
So we went inside, signed the register, put on our eyes and ears and we were ready. The sound of a gunshot made her flinch, a big flinch. Indoor ranges can be very loud. "Get that out of your system now, Ma. Take some deep breaths, you'll be okay."
And she was, of course. By the time I had hung the first target and set out a few pistols on the bench, she was as calm and cool as if she shoots every day.
Mom decided that she liked the Ruger MkII more than the Taurus .22 revolver, which she said felt awkward in her hands. She had a hard time finding a comfortable grip and, from the previous time at the range, I really think she prefers a semi-auto anyway.
I let her try my Bersa Thunder .380 and she said it felt nice in her hands - until she pulled the trigger. She felt that the caliber was a bit much for her, so I guess we'll have to work up to it.
But you know what she really enjoyed? The rifle. (which is
officially an assault rifle
in New Jersey, by the way.)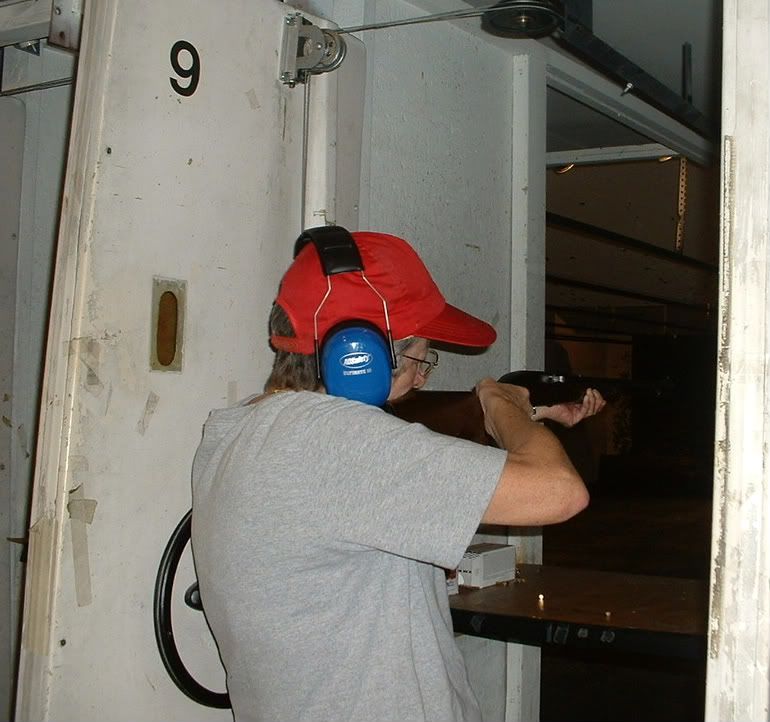 I didn't run the target out very far because I just wanted her to pull the trigger as much as she wanted and have fun...and, boy did she!
My mom is awesome - and I'm so very proud.