(all photos can be enlarged with a click)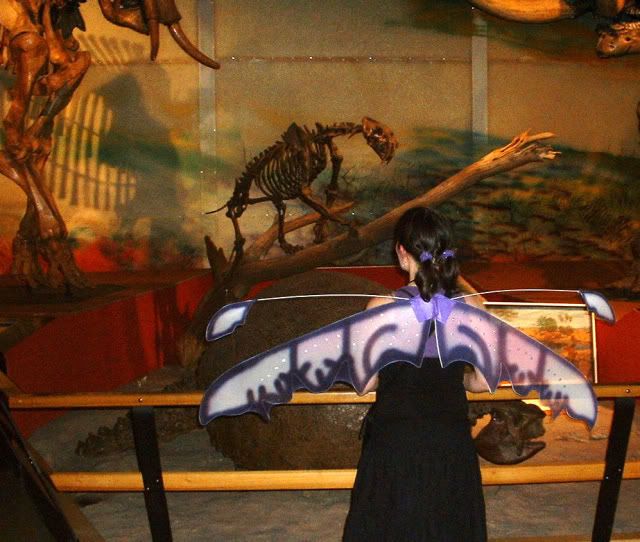 The Halloween party at the Cleveland Museum of Natural History was incredible. Jack o'lanterns lit the entrance, a band was rocking out, people in costume were dancing amongst the taxidermy, decorated tables were laden with gourmet snacks, the planetarium was showing the classic Wizard of Oz/Dark Side of the Moon and, best of all, the dimly lit galleries were open. We partygoers could wander about and explore the exhibits, beer in hand. (I chose
a spooky brew
, in honor of the holiday.)
The Man with the Yellow Hat (See the monkey?) had an encounter with his old nemesis, the dunkleosteus.
Meanwhile, I was in the mineral hall saying, "Oooh...sparkly!" (the beer was 8% alcohol, okay?)
A little while later, I found my
wenches
gunchicks
friends, Nicole and Elizabeth near the glacier exhibit. Mike and I rescued them from an overly friendly jawa, who was fumbling an attempt at flirting. Stories about baboon heads are an unlikely way to win a girl's heart.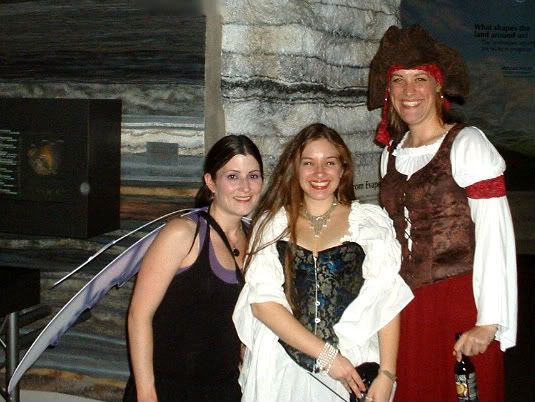 It was a fabulous party and we ended up staying out well past the witching hour. A very tired fairy fell asleep in the car on the way home.