Yesterday, while perusing my new favorite online social networking site Facebook* I came across an advertisement that made me literally stop and say, "Wait,
what
?!"
And I did a screengrab because, well...I just had to share.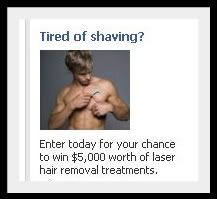 Now, the concept of a man shaving his chest is not foreign to me. I realize that swimmers wanting to be as sleek as seals do this and probably bodybuilders and male underwear models do too. It seems to be job-related, so hey, cool. I even believe that a person should be able to do whatever they like cosmetically to their own bodies. I mean, I have tattoos and a piercing, so I'm really not in a position to be judgmental.
So let's call it a personal preference - I like men and most of the time, men have chest hair. It's a simple concept, really - chest hair is touchable and utterly masculine. It reminds us that this is a man, not a mere smooth-chested boy. Add in that little wisp at the open collar of a man's shirt and yowza. Tantalizing.
A full chest of hair is something that tends to come with a bit of maturity (something that many women would be wise to consider a feature, not a bug, in their choice of mates) but youth has long been the standard for beauty. Media encourages this idea so some modern men think it necessary to shave their chests. It could also be that a shaved, waxed, plucked, manicured, metrosexualized man is easier to accept somehow, less threatening to the myth of grrlpower**.
So lately we women only have pubescent looking male stars to ogle in the theater and in magazines, we've been left dissatisfied and wanting - but it's a trend that I am happy to report is changing. I am celebrating the return of masculine beauty and
I am not alone!
____________________


*which you should totally join, because all the cool kids are there, just waiting, with photos and everything. Well, maybe not
all
but hooray for peer pressure! Also, I find it funny how social I am online considering I'm quite the opposite in real life. I rarely answer my phone when it rings, but contact me me on Facebook? Chatterbox.
**in my opinion,
being a strong woman is not about emasculating men
.