I've always thought that one of the best things about
the Bredalución
my eventual world domination
fame and fortune would be the ability to meet world leaders and royalty. I've often imagined being introduced to Queen Elizabeth II. I'd shake her hand, look her in the eye and say "Hello, nice to meet you." Just like that.
All humans are born naked and squalling, full of limitess potential, and one can create their own greatness through hard work and good character. No fortune of birth sets one person's worth above another's - in fact, the very idea repulses me. So, yes, I'll admit that an accomplished woman and dutiful monarch such as Elizabeth deserves respect but she is also, unquestionably, my equal.
A lot of blood has been spilled to guarantee me the right to never have to bare my neck in submission to another.
So when Michelle failed to curtsy and Barack gave a simple nod upon meeting Elizabeth, I thought, "Good for you. Good for
us
."
We're Americans. We bow to no one.
And yet...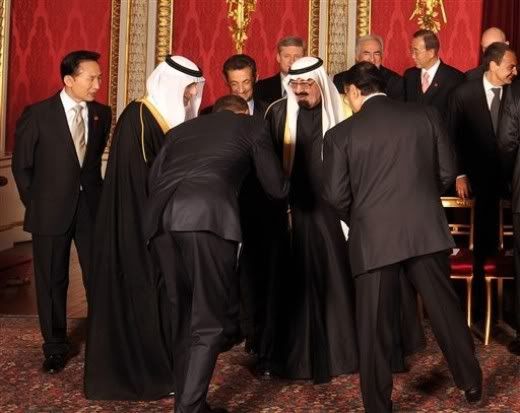 Head down, eyes lowered and executing a bow so low that he needed to put a foot back to balance himself, Barack Obama is practically genuflecting to the King of Saudi Arabia.
This is not a Japanese-style bow because there is no respectful, reciprocal bow. This is not akin to George W. Bush's infamous handholding with the Saudi king because in Arab cultures, holding hands is a sign of amicable, equal status. So yes, the current President of the United States chose to display a submissive posture to a
barbarian despot
.
I might have been willing to accept this as a gaffe - one of those rookie mistakes or an ignorance of protocol if he hadn't just the day before been so curt with the Queen of England. Almost every news story that I've read says that Obama, by many accounts a narcissist, was the only one in the room to act subservient to King Abdullah and in the
videos
I've seen, he seems eager and pleased to do it.
The Leader of the Free World, our Commander in Chief, slavishly kowtowing in front of
one of the world's worst dictators
.
There are many reasons that this might have occurred and, really, none of them are good. Dangerous naivety is the best of the possible explanations but beyond that, I hate to speculate - the alternatives are just too frightening. But I will say this...
Not in my name. I am an American. I bow to no one.