While I was standing in a checkout line the other day, my attention was drawn to this magazine cover...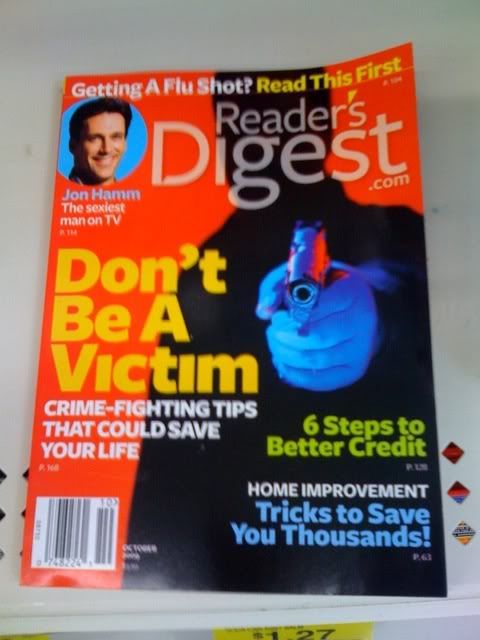 At first I got a little excited, thinking, "Cool! An article about concealed carry!" Oh, silly, silly me. I skimmed the article - the guy with the gun is the
bad
guy. Of course.
Despite the always awesome Dave Grossman being quoted throughout, the article was full of the usual self-defense "tips," some of them even sensible. Be prepared (carry "mugger's money"). Be ready to react (yell "fire!" instead of "help!"). Don't be an easy target (turn off your iPod while jogging). There was even a handy little diagram entitled "Kung Fu You Already Knew" that reminded us that every time we check a melon for ripeness in the grocery store, we are making the same motion as goudging out a bad guy's eyeballs.
There was only one sentence that referred to using a firearm for protection. We're warned to that we really need to know how to handle one, otherwise we're better off getting a dog with a loud bark.
My favorite tips, however, were the ones about rape. It's suggested we destroy the rapist's idealized girlfriend fantasy by telling him "You're hurting me" and "I don't like this." Note his disguise & put up more of a fight for a masked rapist, because he might be planning on more than just rape. (Oh,
just
rape. Not dangerous at all, really. Pish posh.)
And, ladies, when a rapist is holding you down, punching you in the face, strangling you, and/or tearing your clothes off, always remember to "Resist passively with body language: Keep your legs together and arms crossed to give him subtle cues of opposition."* Or in other words, lay back and think of England, it'll all be over soon.
*yes, that's direct quote from the article