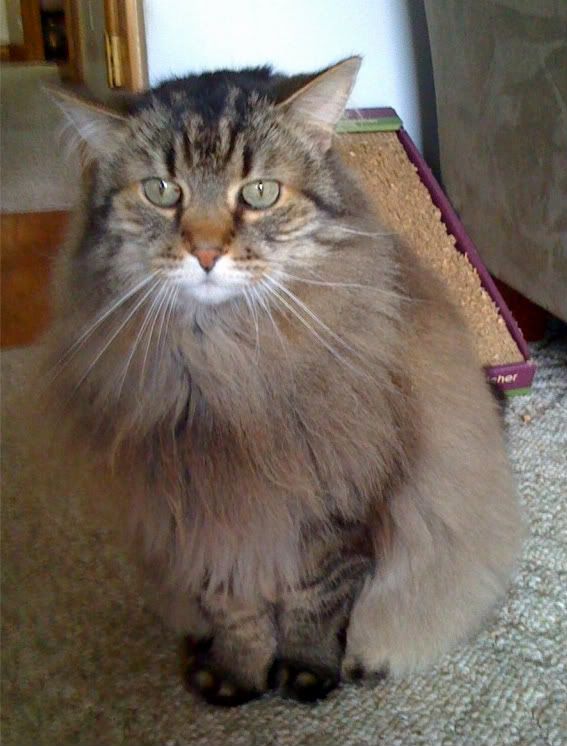 After Sebastian had picked us out at the pound and approved of his new home, my mom and I realized that we had absolutely no idea what to do with a cat. He was a gorgeous Maine Coon - lovely green eyes, a silky coat (& curly belly fur!), big snowshoe paws, and a sweet disposition - and we were completely smitten, but we'd both only ever had dogs. We had all the requisite food, bowls, toys, treats, and litter box however the cat was now hiding under the sofa and not doing any of the expected cat type behaviors like playing or purring. Mom and I looked at each other, perplexed and a bit dismayed. We'd really hoped for purring.
"Let's call Mike," said my mom, suggesting we ask for help from the only cat person we knew.
This occurred well before we got married, but being the dutiful future son-in-law, Mike came right over to solve our little cat problem. Sebastian, who was promptly coaxed out from under the sofa with treats and petting, set about exploring his surroundings as we discussed the finer details of cat ownership. "Well, then," I thought. "This cat stuff is easy."
But I did have one more, very important, question. "What's the best way to potty train him?"
Mike grinned, picked up Sebastian, and set him down in the litter box. "There you go. Done."
"Wait, what? That's it?" I was completely flabbergasted. How could this be?
"Yep. It's hardwired."
And that was the moment I knew - I was a cat person, too.
___________________________________
Sebastian, now 12 or 13, had been losing weight and acting a bit off. A couple days in the vet told us nothing except that he was dehydrated and had a slightly high white blood cell count. Probably old age, we were told. Antibiotics, a couple days of IV, and a wait and see approach was suggested.

Late last night, we got the phone call from Mom. Sebastian had collapsed. He wasn't breathing well and his back legs weren't working.

After a hurried trip to the emergency vet and a night spent in oxygen, Sebastian hadn't improved. So early this morning, my mom chose to do the most loving thing a pet owner can ever do. It's such a great mercy for small creatures since they don't ever understand the why of their suffering, they just want to be free of it. It's a difficult gift for a pet owner to have to give.

Choosing to love an animal also means choosing to break your own heart. But, oh...that purr makes it all worth it in the end.