According to
Forbes
, C-Town has yet another claim to fame...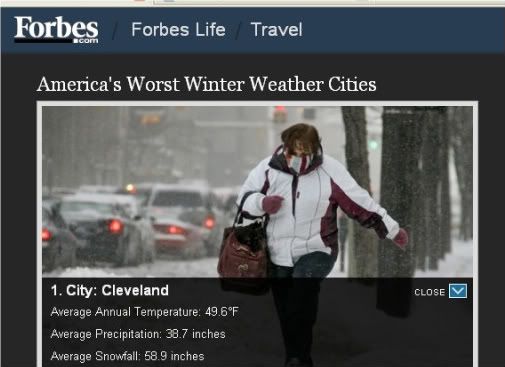 It's astonishing how colorless and shapeless a wintery world becomes - trees are charcoal gray silhouettes against a lighter gray sky, roads are slate stripes cutting through white drifts, people become shadows trudging around in dark parkas and the edges of things blur as the snow sifts down. A bright yellow school bus rumbling past my window becomes a visual feast.
It's not so bad, really - around here, snow is a sign that things are still normal. When I was a child, I had a toy shovel, snow forts were an obsession, a red saucer was my favorite mode of travel and I even had device for wobbly, homemade igloos. Snow is just what we
do.
I'll admit I'm glad I have the internet to remind me that blue skies still exist and that not everyone lives a portion of the year scraping ice and trying to figure out a way to make wool less itchy. For instance, Alan (the mastermind behind Vicious Circle) lived for a long time
without ever having seen a snow brush
. Unfathomable.
We're snow snobs in Cleveland. We scoff at Southerners when they're in the midst of
one of their French toast and toilet paper panics
, "You think
two inches
is bad? You've never
seen
real snow! Around here, people are still wearing shorts in what you call winter." We boast about our winter driving skills, we don't bother to wear gloves if it's only 20 degrees.
Perhaps it's the bravado that gets us through till spring.