Last week, the
White House's rabidly anti-gun astroturfer extraordinare David Axelrod had a conference call with a bunch of butthurt lefty bloggers

.
Seems they're all feeling a bit sore from being used as propagandists for the Obama administration without getting much hopenchangey love in return. One woman on the call, a Susan Madrak, was particularly put out, accusing Axelrod of "hippie punching" and saying, "We're the girl you'll take under the bleachers but you won't be seen with in the light of day."
Uh, yeah
.
Anyway, after reading about this I started thinking, "Wow, the White House is talking to bloggers. Who do you have to be to get
David freakin' Axelrod
to call you? Not that I want to talk to anyone in this administration, but well...Hmmm...Who is this Susan Madrak person? Exactly how big is her blog?"
So I googled the name and was asked if I meant "susie madrak." Uh, sure. "Susie." Okay. I googled again and found susiemadrak.com. I assumed it was the same person and clicked through. The blog is named "Suburban Guerrilla" (you can find it online if you're that interested, but I'm not linking to her) I found the blog header fairly amusing...
Now, I hate to make assumptions and all, but considering she refers to herself as a "hippie" I'm going to go out on a limb here and guess she's fairly anti-gun.
Any
way (sidetracked again, sorry) over on her blog, I found a link to her sitemeter and prepared myself to see numbers equivalent to, say, Michelle Malkin.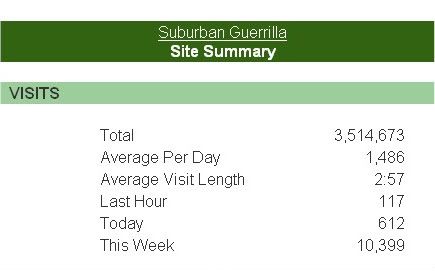 Umm...not quite. Mind you, these numbers are
with
having been in the national news recently. (search google news for madrak+axelrod if you don't believe me.) Susie's sitemeter does, however, look eerily familiar...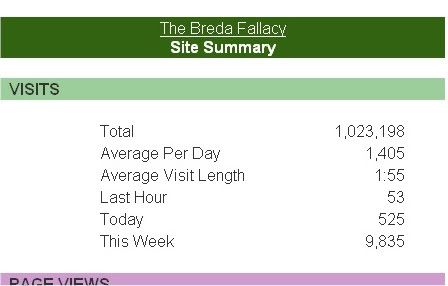 Should I be waiting by the phone?