Ambulance Driver and I get better acquainted.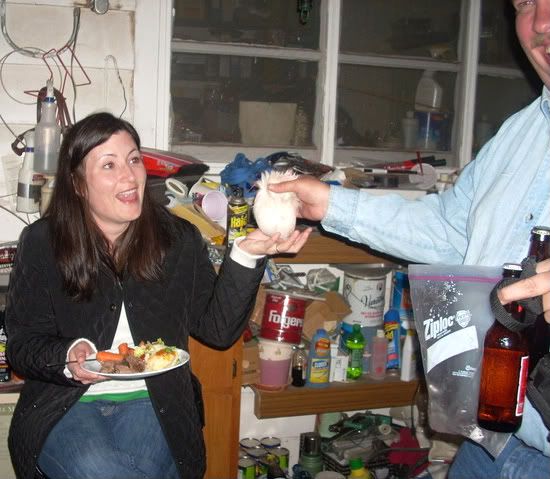 I'll be sharing little details and posting photos (once I get them all downloaded and edited) but if you want all the various and sundry details of what was, undoubtedly, one of the best weeks of my life, you'll have to read elsewhere.
The Atomic Nerds give a hilarious account of events (parts
1
,
2
, &
3
)
Christina_LMT wrote up
an excellent range report
(but I'm sure she didn't list every gun that was there)
OldNFO shares his
favorite memories
and AepilotJim has the
post-Blogorado blues
.
Snarky is summarizing
day-by-day
.
Gay Cynic
open carries for the first time
. (as a little aside here - On Friday, before we went to visit the horses, the whole motley bunch of us were standing on the sidewalk, admiring the saddles. I stepped back, a bit bemused at the scene. Ah, Blogorado - where you can have a gay man, a librarian and a
Texan in a kilt
all enjoying each other's company, the warm sunny day, and the freedom of open carry. It was a thing of beauty.)
The gorgeous Phlegmfatale (I'm not kidding, folks. It was like a movie star made an appearance at the range. I'm still dazzled.)
gushes over gravy
. And no wonder, the food was excellent - best chicken fried steak I've ever had. Okay, it was the ONLY chicken fried steak I've ever had, but I have it on good authority that it was one of the best EVER. (&
Farmmom is going to be blogging the recipes
!)
I really cannot say enough about Farmgirl, her parents, and her Mamaw - fine, generous people who worked so hard to host a bunch of strangers. They fed us, took us in, and treated us like family. A simple "thank you" seems insufficient but there it is - from the depths of my heart.